So, we've officially been slacking on updating this bad boy (
last post back in September
) but hey, we've been busy. If you know us we're big fans of lists, so here's a recap of what's been going on in the JEllis house:
October
: We went to lots of football games
November: Family, friend, more football...and an earthquake?
Mild earthquakes hit Kansas and Oklahoma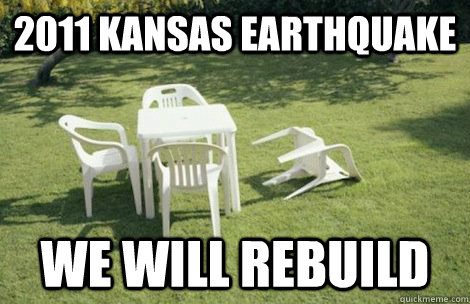 Great trip to Austin, TX with lots of friends and fellow K-Staters to watch the Cats hook the Horns 17-13
Ellis family Thanksgiving in MHK
Operation make our house awesomer. We cut a hole in the wall separating the living room and kitchen and couldn't be happier with the result.
December: Parties and Christmas
Jake's work Christmas party
The 3rd Annual Ellis Tacky Christmas Party (I'd say it was a success)
Payne family Christmas in Olathe
Ellis family Christmas in MHK
January: Football ends, basketball ramps up, and lots of travel
Road tripped to Dallas to watch the Cats play in the Cotton Bowl, I didn't realize I needed to drive 500 miles to watch the game on a TV
Woke up at 4:30 AM the morning after the Cotton Bowl and drove to MHK to, luckily, watch the Cats demolish Missouri
Went on a cruise with the whole Ellis clan (watch out for a future post) to Georgetown, Grand Caymen, Falmouth, Jamaica and Labadi, Haiti
February: Julle's birthday and more traveling, this time for work
Immediately following a week in the Caribbean, Jake packed his bags and headed northwest (way, way, way north and west) to Bethel, Alaska for work. Check out this view during the flight from Chicago to Anchorage, pretty astonishing
We celebrated our friends Adam and Whitney's engagement...congrats!
Julle turned 26, for her birthday...

Her amazing husband surprised her with a massage
Her amazing husband cleaned the entire house while she was getting said massage
Her amazing husband took the dogs to get groomed
Her amazing husband planned a nice soiree to celebrate with wine and beer

Jake hit the road again, this time for Latrobe, Pennsylvania. Latrobe formerly was the home of the Rolling Rock brewery, Arnold Palmer and Fred "Won't You Be My Neighbor" Rogers
In a nutshell that's what we've been up to, we hope your past four and a half months have been as fun-filled as ours!